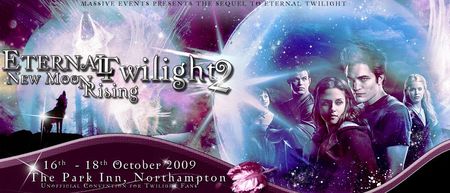 La deuxième convention Eternal twilight, se déroulant en Angleterre, faisant suite au succèse de la première.
Les différents programmes :
- Programme Standard (78£ adulte - 29£ enfant) :
Exclusive convention souvenir programme

Exclusive convention gifts/surprise

Access to all talks over the days of the event

1 free autograph from each guest (up to a maximum of 6 guests)

Access to 2 themed parties (Friday & Saturday Night)

Access to 1 "chill out" party on Sunday night


Access to the dealers room.
PLUS! Many more surprises to come!
- Programme Silver (135£) : (épuisé)
Programme Standard
1 professional photo shoot with each individual guest
- Programme Gold (195£) : (épuisé)
Programme Silver
Exclusive drinks reception with the guests on Friday evening

Reserved priority seating for the guest talks


Exclusive convention t-shirt
Premier invité : Billy Burke alias Charlie Swan
Premier thème de fête : Volturi Masquerade Ball
Northampton